Ling

Ling as depicted in an early character design.
Biographical Information
Name
Ling
Alias

--

Title

--

Age

Unknown (presumably 15)

Physical Information
Status

Alive

Location

China

Nationality

Chinese

Gender

Female

Hair

Black

Eyes

Brown

Skin

Pale

Relationship Information
Family

Unknown

Affiliations

Knite Fliers (member)

Occupation

Student

Series Information
First Appearance
Ling is a minor protagonist in the comic Knite.[1][2]
Relationships
Edit
Ling seemed to know Sen when they came face-to-face in chapter two of Knite. She was the one who gave Kai the information about Sen's whereabouts in return for Kai bringing him back to school, which shows how much she cares about Sen. On the other hand, when Kai mentioned how he got the information he needed out of her with his "politician's charisma", she blushed, an indication she may be attracted to Kai. She also seems to be rather close friends with Fei.[1]
She is a class representative at Sen's school. When Kai asked about him, she gave him Sen's location in exchange for his promise to bring the boy back to school.[1]
Physical appearance
Edit
Ling has mid-length black hair normally worn in two pigtails, pale skin, and stands at an average height.
Knite Fliers
Edit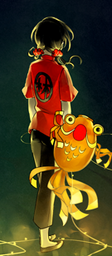 She and
Fei
tracked down Sen and offered to help him after witnessing his kites. Sen originally refused, but after bringing their friends into the movement they finally convinced him to accept their help.
[1]
The character on the back of Ling's uniform is Lin (Ling) which means forest.[3]
References
Edit